Daylily orders……..Once again, let me welcome you to my daylily hobby gardens! We are located in South Western Ontario Canada about 40 minutes west of London Ontario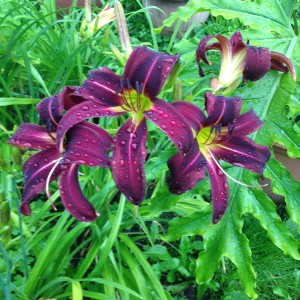 The one thing you can absolutely count on when growing daylilies and other plants is that they will increase and once they have increased then it is necessary to find new homes for some plants.
Thus, we are offering some of the plants for sale. See something you like? You can email us to confirm if the plants you would like are available before sending any funds.
Simply send an email to:
dirtundermyfingernails123@yahoo.com
We will do our best to get back to you the same day.
Plants are sold as double fans "DF" unless specifically indicated with an "SF" for single fan or C for clump .
SHIPPING : Shipping starts in May and will continue until the end of June weather permitting and then again in August for fall shipment . Shipping is via Canada Post Expedited Post or Fedex , whichever is the most appropriate for your situation.
If you wish to pick up , we will provide directions with your confirmed order.
SHIPPING FEES:
East Coast – Newfoundland , Prince Edward Island , New Brunswick, Nova Scotia:$20 plus $1 dollar per double fan
Quebec- Ontario : $17 plus $1 per double fan
Manitoba , Saskachewan , or Alberta: $25.00 + $1.00 per double fan
B.C: $30.00 + $1.00 per double fan
METHOD OF PAYMENT
Payment by cheque or money order please (if ordering daylilies by mail) , by cash if picking up daylilies in person. We are not equipped to handle credit cards as this is just a hobby.
INTERNATIONAL ORDERS (on hold during Covid 19)
We can now ship to the US as long as your state permits imports of daylilies . We will count on you to check out the regulations for your state and provide us with this information . Some states do not permit importing of daylilies ( one example is California ). American funds taken at par.
This process requires a Canadian government issued Phyto Certificate which means the plants have been prepared for shipment meeting all the requirements of the importing state/country and inspected by an agricultural agent and the proper paperwork prepared. There is an additional charge of $25 for this procedure plus shipping will be actual cost depending on what method you prefer. Minimum international plant order total must be $150.00 before these charges.
GIFT PLANT POLICY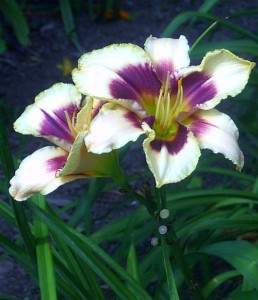 Domestically , we will include a daylily as a gift plant ( our choice) with your order if your total purchase of plants amounts to $75 or more before shipping costs. Suggestions of a couple of daylily cultivars that interest you are welcome. We will try our hardest to fulfill your request.

If you have any questions at all about this process or our plants please feel welcome to ask. We will do our best to help.
1 Comment